Happy Holidays!
Christmas is around the corner and we are looking forward to some time off! Online store is open day and night as per usual and here's our opening hours for dispatch:
Monday Dec 22 Open
Tuesday Dec 23 Open
Wednesday Dec 24 - Sunday Dec 28 Closed
Monday Dec 29 Open
Tuesday Dec 30 Open
Wednesday Dec 31 - Sunday Jan 4 Closed
Monday January 5 2015 Open!
From all of us to all of you a Merry Christmas and a Happy New Year!
T.G.I.F.
We will continue to close on Fridays but you can always email us 24/7 as per usual!
Registering online
When you register online it is important to complete all the address boxes (Address, Town, County, Post code, Country) to get the correct shipping price.
If you use PayPal Express please make sure you select the correct delivery address!

Join us on Facebook!
Newly listed parts
Did you know that all the new parts are listed on our store front page? Just scroll down and indulge..
UPS Shipping Surcharge
Shipping cost is automatically calculated from the weight of your order and might not always be correct. It is impossible to set the cart up for all the different areas of the world and sometimes UPS adds a shipping surcharge to remote addresses. We will always try and help our foreign customers by subsidising any surcharges but for low value orders we simply can't! We will always make contact via email to resolve any issues so please make sure your registered email address is up to date!
SS3 Generator!
Take a look at our Super Spin 3 phase generator kit, click on image to read more..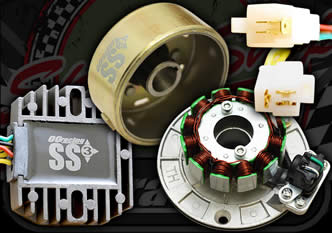 Find a new exhaust here