We usually get asked the same questions over and over. So to stop my ear from being microwaved by the mobile phone, we have put this page together to answer some of the most frequently asked questions.
Hope it helps you out, if not we are still always on the other end of the phone or email!
Workshop: +44 (0)1304 814 447

Spark plug colour check

Look at the spark plug porcelin for the colour and condition of it. Plug colours tell us how the engine is running and can be very important. Plugs change colours and the different colours can explain such things as if the engine is running too hot or if the engine is worn. The colour should be read by looking at the porcelin insulator and compared to the plugs shown on the next few pictures.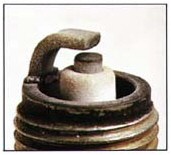 Normal: grey to light golden-brown colour. This condition is ideal, the spark plug and engine air/fuel mixture are operating properly.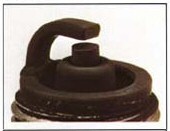 Dry Fouling: Black Soot Buildup.Air/fuel mixture is too rich, the carburettor settings are incorrect, spark plug heat range is too cold for the operating conditions. Ignition system problems causing a weak or intermittent spark.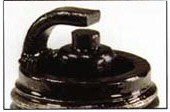 Wet Fouling: Shiny, Wet, Black Appearance. Excessive use of the choke (gas fouled). Prolonged low rpm operation (gas or oil fouled). Sign of damaged cylinder passing oil.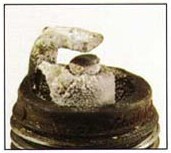 Excess Deposits: Bumpy, Chalky Buildup. Poor fuel quality. Oil leakage into combustion chamber. Improper oil used for premix/injected.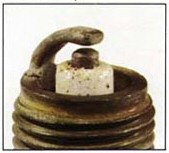 Overheated: White, Blistered, Melted Electrode. Lean air/fuel mixture. Spark plug heat range is too hot for operating condition of the engine. Plug is not properly gapped and/or torqued onto head. Overly advanced timing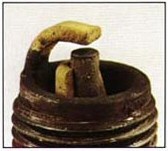 Breakage: missing or damaged components of the spark plug. Caused by thermal expansion/ contraction of the insulator, typically due to thermal shock (the sudden increase or decrease in temperature). Sudden decreases in temperature can most commonly be coincided with entering a large pool of water while the engine is hot, or a broken water jacket for liquid-cooled engines.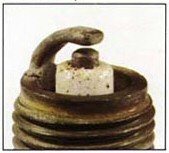 Detonation: silver or black specs, melting or breakage at the firing tip. Caused by improper timing. Lean air/fuel mixture can aggravate this condition.
Carb Jetting and Adjustment top end
I can't stress how important it is to use GENUINE MIKUNI or KEIHIN jets in your carb. Aftermarket jets just aren't manufactured to the same tolerances and can vary quite a bit from OEM specs.
Most carb have three major circuits (some have more, some have less) to cover the tuning range:

An Idle Circuit.
A Mid-range Circut
A Wide Open Circut
These circuts overlap each other just a bit, so the transition between them is smooth and unnoticed.
Things such as atmospheric pressure, humidity, altitude and temperature all have effects on the tuning of a carb. The more modified an engine is, often - but not always the case - the more sensitive it may be to jetting. You'll find out by tinkering with your individual setup.
Starting with the Main Jet


The Main Jet only works on the upper end of the throttle - approximately 3/4ths to wide open.
Make sure you have a new spark plug installed.
Take your ride out and get it warmed up.
Run it full throttle, get it going as fast as it will go for a block or two and then hit the kill switch, close the throttle, put it in neutral and roll to a stop.
Pull out the plug.
What does your spark plug look like after a wide open throttle (WFO) run?
What color is the electrode? (the part that has the little tit sticking out of it under the little bar)
Is it black? If so, then it's rich. Drop the Main Jet size ONE
Is it white? Then it's lean. Raise the Main Jet size ONE
It should be about the color of a pancake or waffle.
For now, change Main Jet sizes in ONE STEP increments. (one size is not 150 to 151, it will jump say to a 152 or 153 - same the other way - prolly a 147 or something near that)
Go do a plug chop again. What does it look like now? If it's still white, then you're still lean, if it's still black or dark, then it's still rich. Change the Main Jet accordingly and go do the plug chop again. Keep it up until you end up with a nice brown plug.
Generally speaking, you should be able to use the same spark plug for these runs. If the plug came out black and gooey, you're extremely rich and may have to use a new plug for good readings. Lean out the Main Jet a size or two to get close on the jetting and then put a new plug in and finish out the plug chop runs. Use your best judgment.
Carb jetting at the bottom end of the range

In general, a FOUR stroke carb has an Air Screw adjustment - which will be on the manifold side of the carb slide.
Most of the time, the air screw is set about 1-1/2 turns out from fully seated - this is a good base line starting point.
At first, adjust the Air Screw in 1/2 turn increments so you can see the difference. Then start being more finite by making 1/4 turn adjustments. You'll eventually get to where you only need to make adjustments in 1/8 turn increments.
Get your ride idling in neutral (warm it up fully first)
Quickly nail the throttle, going from idle to wide open in a smooth manner, but quick manner.
Just stabbing the throttle as fast as you can may cause enough disruption in the flow of the intake that the engine can't keep up - eventually, when the carb's tuned correctly, you should be able to nail it and have the engine react correctly. You'll see how this works as you tune the carb.
What does the engine do? Does it hesitate and then rev up? As it comes back down to idle, does it seem to hang at a higher idle for a minute and then settle down to normal idle?
If it does this you're too lean on the Air Screw adjustment. You need to richen it up by turning the Air Screw IN 1/2 turn and then repeat the test. Adjust as necessary, repeating the test until you have a nice response.
Or
Does it sound like it bogs a bit? As it comes back down to idle, does it seem to drop to a low idle (or even die) and then come back to normal? If it does this, it's Too Rich. Turn the Air Screw out 1/2 turn. Adjust as necessary, repeating the test until you have a nice response
Brakes/fluids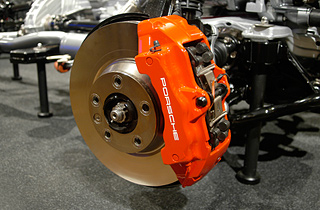 Brake fluid is hygroscopic (readily taking up and retaining moisture); it attracts water. This water is in the form of moisture in the air. Moisture in your braking system is very dangerous, as water boils faster than brake fluid and can lead to serious problems with the braking performance of your bike. It can also corrode parts of your brake system, including fittings, pistons and the master cylinder. Believe me, I can tell you from experience!